A Ticket to Musical Ecstasy
by Angus
(St. Lucia)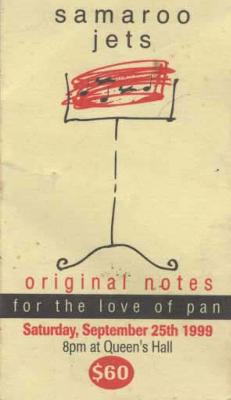 This is a ticket stub of a concert I went to 10 years ago! I don't know if it qualifies as ' steel pan art' but I like what the artist did with the steel pan. (That's why I held on to a used ticket stub for 10 years!)


The concert was absolutely amazing! The Samaroo Jets are one of my all time favorite steel pan groups. Every member of the group is incredibly talented. They play the most difficult pieces of music and make it look easy.

They also play a lot of music written specifically for the steel pan. We need more music like that! Unfortunately I have not seen them perform since 1999! I have their CDs but it's not the same thing.


Join in and write your own page! It's easy to do. How? Simply click here to return to Photo Album.