We Met Denzel Washington at a Playout!
by Nicole
(Jamaica)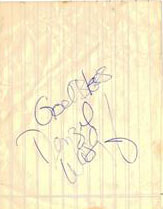 In the early nineties our band (UWI Panoridim) was asked to play at actress Sheryl Lee Ralph's wedding. It was a major event and lots of movie stars were there, including Denzel Washington. The only problem was, I LEFT MY CAMERA!!I was so angry with myself.

Anyway, our band captain mustered up enough courage to ask Denzel to come to the band for autographs. He was sooo warm and friendly. He willingly signed autographs for EVERYONE in the band. Such a gentleman! Sigh!

Now I walk with my camera to EVERY PLAYOUT!