How to Layout a Steelband 
(Steel Drum Band)
How steel pans (steel drums) are set up for a performance is important. It is very frustrating to rehearse for hours and then have a performance ruined because one section overpowers the other.
Start by using the guidelines below and then do a sound check. Don't be afraid to experiment with the layout. Remember they are only guidelines. You need to make sure the audience hears the best sound possible from your band.
If this set up does not work for you, change it. Know the strengths and weaknesses of your players and set up the instruments accordingly.
Guidelines for Laying Out a Steelband (Steel Drum Band)
The following guidelines apply to both conventional and single pan bands
The layout of the pans in the panyard should be identical to performance layout. If this is not possible, make sure that the members of each section are placed together and can hear and interact with each other.
Layout of a Medium Size Band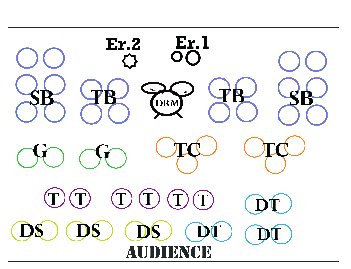 KEY
DS-Double Seconds Pan              
T-Tenor Pan                        
TC-Triple/4 Cello Pan        
SB-Six Bass                        
Engine Room Instruments

DT-Double Tenor Pan
G-Guitar Pan
TB-Tenor Bass
DRM-Drum Set